We are in a quiet area of the city with restaurants, bars and shops not far away. We strive to create a welcoming and friendly atmosphere. The hostel is composed of 15 rooms with 4 to 8 bunk beds and all the necessary facilities such as kitchinettes in the rommes, free Wi-Fi, common spaces, and an outdoor terrace (wheather permitting).
History of the Hostel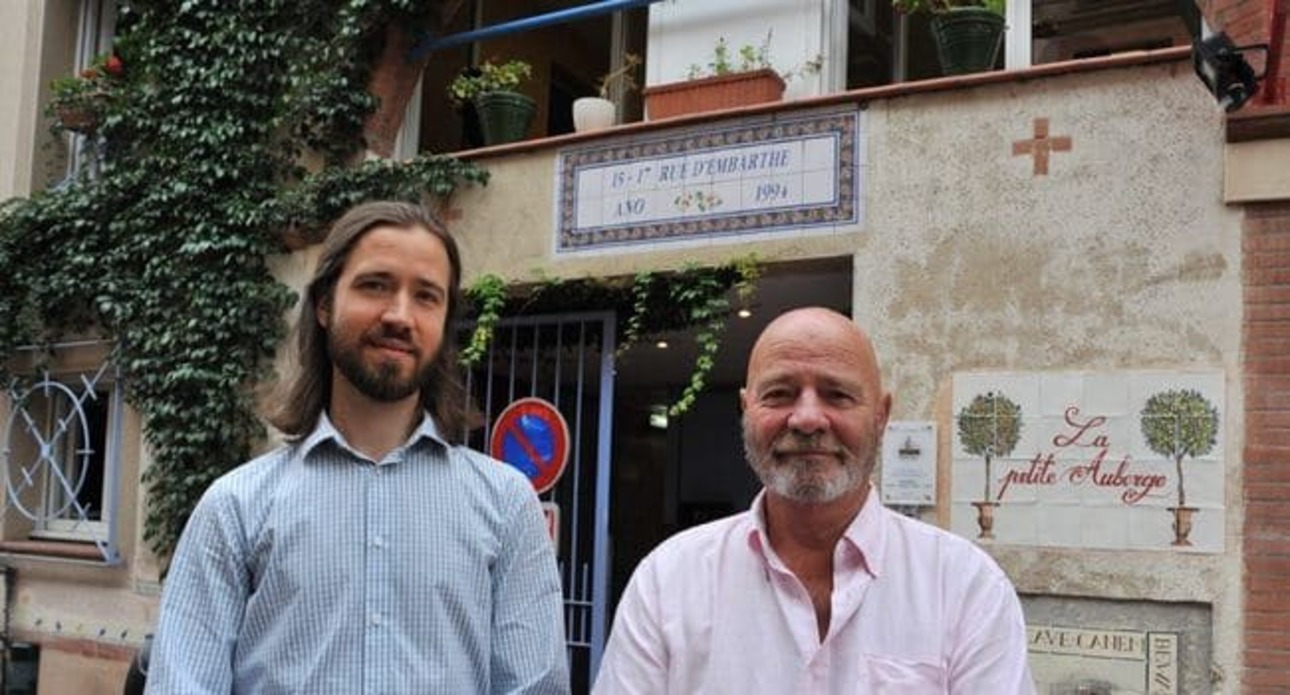 Didier Riquet created the Saint-Sernin guesthouse in 2006 after he had been himself a world traveler.
He wanted to create in Toulouse the welcoming and friendly atmosphere he found along the way in places welcoming pilgrims. His goal then evolved toward creating a hostel accomodating young backpackers from all over the world and offering them an enjoyable and cheap accommodation.
At the beginning, there was 5 bedrooms in the hostel.
Today, Didier's son, Clément, manage the hostel. There are 15 bedrooms with names instead of numbers inspired by the people who stayed in the hostel at its beginnings.
The hostel is a meeting place where musicians, students, pilgrims or traveles come for one or several days while they discover the pretty city in the South of France that is Toulouse.
Our staff will be pleased to help and advice you while visiting Toulouse
In the heart of Toulouse, La Petite Auberge de saint Sernin offers a welcoming, clean and cheap accommodation. In addition to that, our staff lives in the city and can tell you about things to do and places where to go to enjoy your stay.

We are more geared toward welcoming backpakers and groups but students and workers sometimes stay with us too when they need a short stay in Toulouse. In any case, if you like meetings others and the outgoing, friendly and community atmosphere of a hostel, you are very welcome whatever your age.
The hostel is ideally located: close to the basilica of Saint Sernin from the XI Century which is actually one of the largest Romanesque buildings in the Occident and part of Unesco Heritage, and also close to metro station Compans-Caffarelli and supermarkets with the Capitol square less than 10 minutes away on foot.

There many pleasant restaurants and bars in the city center and you can walk or relax along the river Garonne which is one of the most beautiful spots of Toulouse.

Toulouse is also the capital of aeronautics and space industries in France. If this topic interests you, the three main places you can visit are the City of Space (Cité de l'espace, the Airbus factory (which needs to be booked in advance) and a museum with old planes near Airbus called Aeroscopia.

South of Toulouse, you can go hiking or skiing in Les Pyrenees mountains and visit the Cathars castles.
The hostel is a few minutes' walk from la place du Capitole of Toulouse. You can reach the Matabiau train station in 15 minutes with the metro. The metro station Compans-Caffarelli is 5 minutes by walk from the hostel and you can catch the airport shuttle from there too.
Our staff will be happy to answer your questions and try to accomodate your needs the best it can during your stay.
The reception is open every day from 10am to 12:30pm and from 2:00 to 8:00 pm and we speak French, English and Spanish.
Dorms
In a peaceful neighborhood of Toulouse city centre, the hostel is composed of dorms with 4, 6 or 8 bunk beds.
In every room, you will find a kitchenette to cook your meals, a bathroom with shower and toilet, lockers (padlock provided or bring your own) and we provide the sheets and blankets.
Additional services
The hostel offers services to make your stay more comfortable:
luggage room
Wi-Fi connexion
common areas
padlock lending
board games
tennis table rackets and football balls (to use in the park nearby)
music instruments (guitar, banjo, ukulele and piano)
washing machine
free printing (up to 3 pages) and city maps
You will find everything you need for an amazing stay !
Rates
The price for one night is 23.05€ per person (+1.15€ tourist tax) when you book directly through the hostel or the hostel's website.
Please see the rate page to find out about group rates.
Do not hesitate to contact us if you need more information.
Guest book