Our hostel offers rooms with 4 to 8 bunk beds that are equipped with a private bathroom and kitchenette. We also have common spaces that make it easier for our guests to meet and spend a nice time with other travelers from all over the world.
The hostel is composed of 7 dorms for 4 people, 6 dorms for 6 people, 1 bed dorm for 8 people and 1 female dorm for 4 women only.
We hope that you'll find the rooms partical for your stay. If you need anything, just ask the reception about it so that we may try to find a way to help you.
For your comfort during your stay in Toulouse, we provide:

Kitchenette
A kitchenette in each dorm equipped with a microwave, hotplates, a sink, a fridge, dishes, a table, chairs and a kettle.

Lockers
Lockers in the rooms to keep your valuables safe and a padlock to each guest at check-in.

Bathroom
A bathroom with a shower and a toilet in each dorm.
You need to have your own toiletries with you but you can borrow a towel (2€) and a hair dryer at the reception.

Beds
Bed sheets and blankets so you don't need your own sleeping bag.

Beds are 190*90cm bunk beds.

If you need anything else, you can ask about it at the reception and our staff will check if we can provide it or tell you about the place where you can buy it as we are close to many shops.
Wi-fi, lift and washing machine

The hostel provides a free WiFi connexion in all the rooms and common spaces.

A modern lift reaches all the floors so you don't have to carry your heavy luggage in the stairs.

A washing machine is at your disposal for 3 €/wash with a place to let your clothes dry. If you need a dryer, there is a laundromat near the hostel too.
We can also lend you…
A towel, a hair dryer, an iron with a ironing board, music instruments (guitar, banjo & ukelele), board games, sport balls to play outside, a plug adapter and a charger.
A document (passport, ID, driving license, etc) or a 10 euros deposit is required in some cases.
Common spaces to share and exchange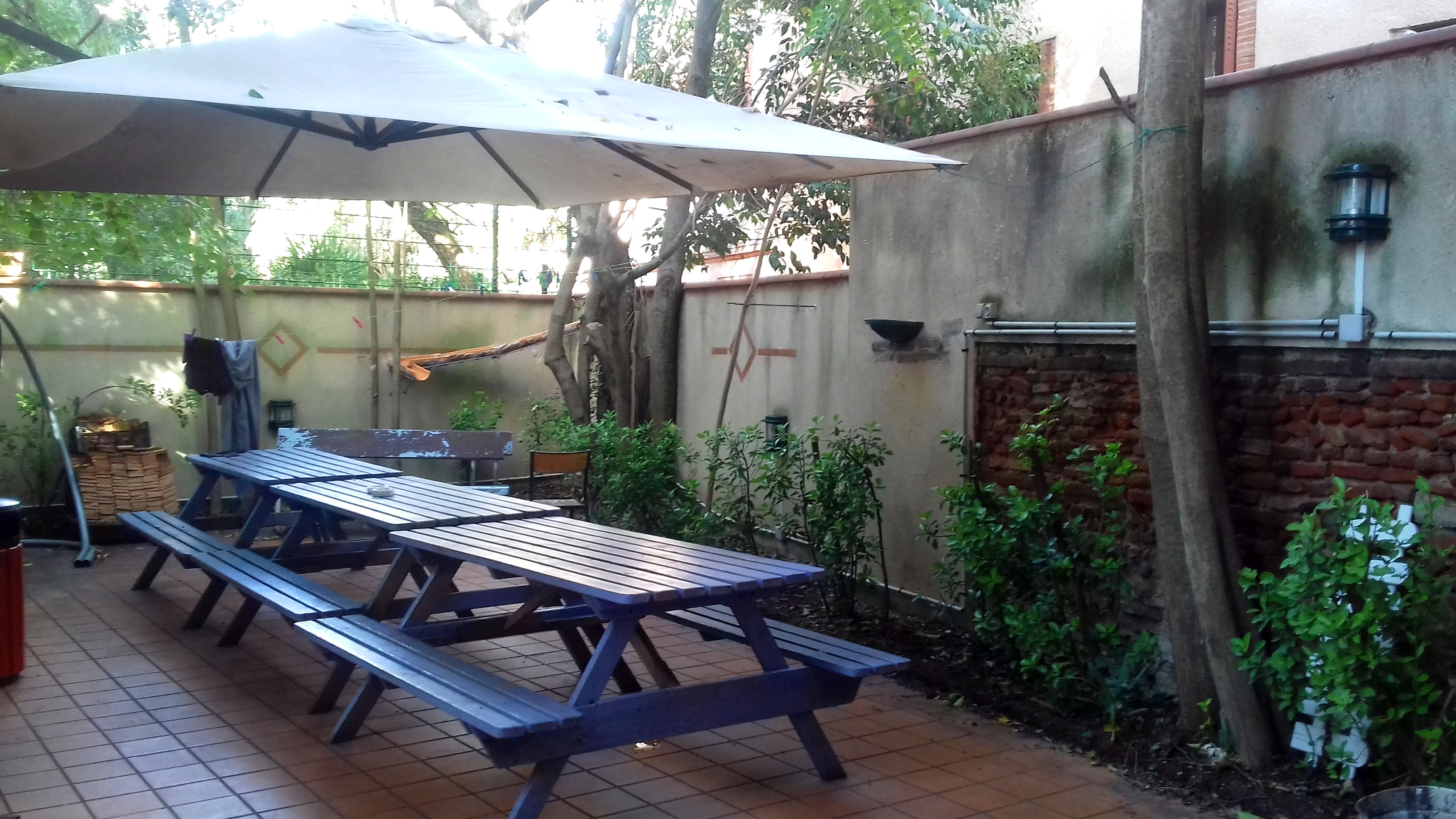 To create a friendly atmosphere, the ground floor is a common space with couches, chairs and tables. There is a piano too and we can lend you a guitar, a banjo or a ukulele at the reception, as well as boards games and balls for the sports ground in the park next door. When the weather is good enough, we open the courtyard which is a pleasant area to eat or socialize. On the last floor, you can rest and relax in « la Boussole », a little room under the roof with sofas, a table, a computer with Internet and books.
The hostel offers a quiet and safe accommodation in the very city center of Toulouse
Guests are welcome to meet and socialize in the common areas but we are not a party hostel due to the presence of neighbors around the hostel and we ask all our guests to be quiet within the premises after 10pm. However, there are many nice places where to eat and party in the city center and we can tell you about them at the reception.

For your security, there are codes to get in and a CCTV system to check what's going on in some important places. Each room door can only be opened with a key when shut and there are lockers in the dorm to keep your valuables safe (around 45cmx45cmx30cm). A padlock is provided at check-in but you can use your own too if you want.