Our hostel suggests rooms from 4 to 8 single beds that are equipped with private bathroom and kitchen. You will enjoy these fittings as well as the common spaces that make easier meeting people and spend a nice time with other travellers from all over the world.
Hostel rooms and dorms
The hostel offers these accommodation possibilities:
7 rooms for 4 people
6 rooms for6 people
8 rooms for 8 people
1 room for 4 – reserved to women
Each room offers the required facilities so that you will spend a pleasant stay. Indeed, that you travel for leisure or business, the hostel is a welcoming, cosy and safe place where to stay.
Everything is settled in the room so that you spend a comfortable stay in Toulouse:

Kitchen- area
A kitchen area where you can prepare your breakfast, lunch or dinner. You will share the kitchenette with the other guests of the bedroom. It's equipped with microwave, hob, a sink, a fridge, crockery, table, chairs and a kettle.

Lockers
Every guest benefits a personal locker in the room to put your belongings in safety. Bring your padlock or rent one at the reception (a deposit is required)

Bathroom
A bathroomwith shower and toilets.
Think about taking your toilet case.
You can borrow a hair drier at the reception.

Beds
Bedsheets and blankets are provided.

Beds are 190*90cm bunkbeds.

Some dorms benefit a terrace with a view in the quiet and nice surroundings.
If you are missing something, pleas do not hesitate to ask. Our staff we'll be happy to help. We have many suggestions for your outings and evenings; cafés, restaurants around the hostel in Toulouse.
Toulouse hostel : Fittings and services
Bathroom and kitchen
For comfort, safety and friendliness during your stay, we care about offering quality facilities. Bedrooms benefit their own bathroom with shower and kitchen with everything necessary such as a kettle, microwave or a fridge. Take the most of the pretty view over the neighbourhood Saint Sernin.
A place to share and exchange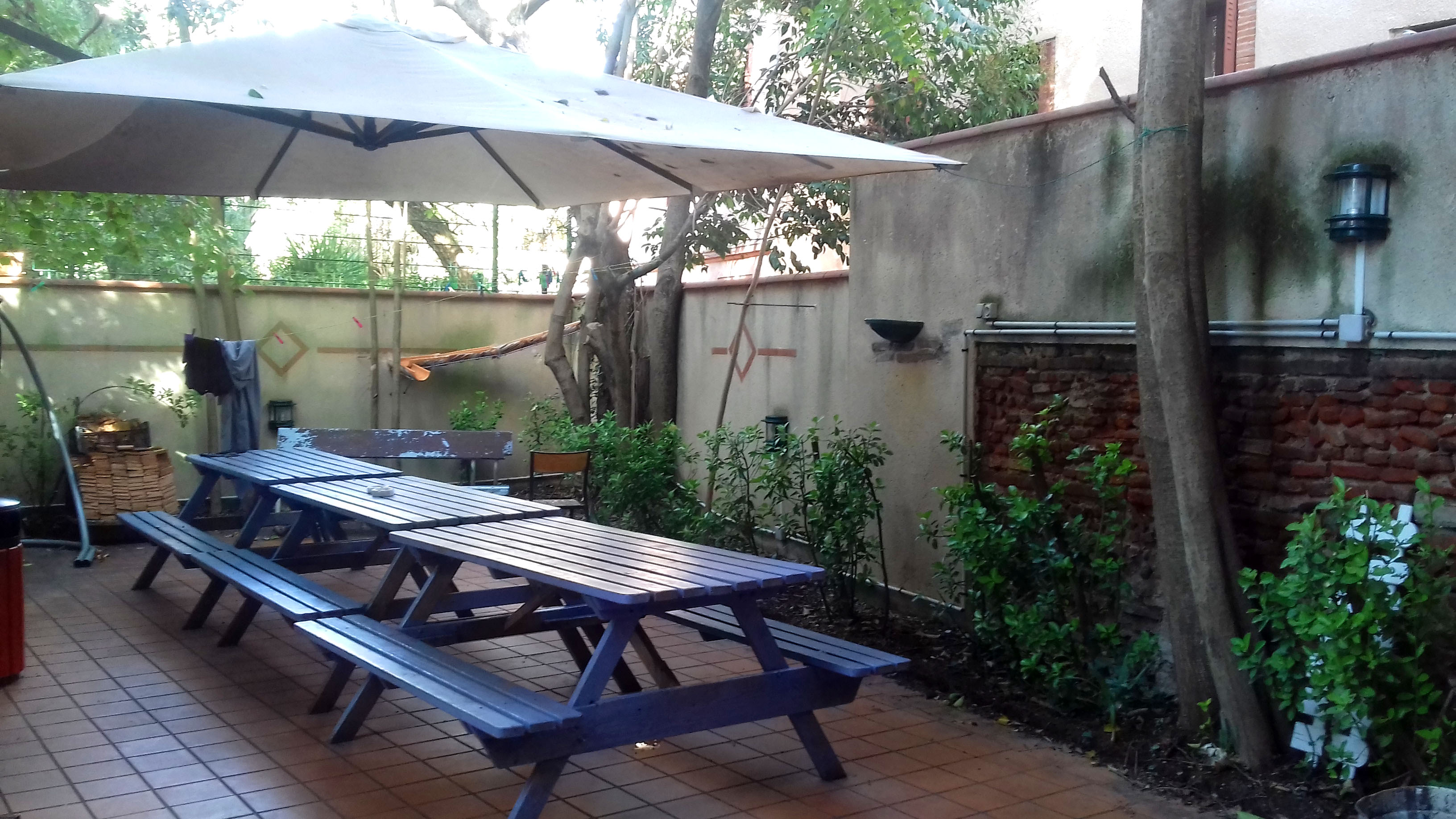 To create afriendly atmosphere, the first floor is entirely devoted to community with couches, tables… You are allowed to play the piano, guitar and the other instruments… as well as the games and balls. The hostel benefits a very enjoyable courtyard. Moreover, the hostel is appended to a nice park with a sports ground. At the last floor, you can rest and relax in « la Boussole », a room refitted with sofas, tables, a computer with internet wifi and a bookcase for book exchanges.
Wi-fi and other services

The hostel provides a free wifi connexion in the all building.

A lift reaches every rooms floors.

A washing machine is at your disposal.
Price: 3 euros per washing
Our staff will be pleased to rent:
Locks
Hairdrier
Towels
Iron
Coffeemaker
A 10 euros deposit is required
The hostel offers a quiet and safe accommodation in the very city centre of Toulouse
We care about our guest to feel safe in the hostel.
That's why we set digits to come in and out the hostel. These are regularly changed. We also have a CCTV system to check every entrance of the building.
Each room door closes with a key and each guest benefits his/her own locker in the bedroom which is big enough to put a laptop.
Our staff is available for any information about the hostels, facilities, bookings or visits to do in Toulouse.