Choose la petite auberge de Saint Sernin hostel for your stay in Toulouse city centre in a peaceful and friendly hostel. We offer 15 rooms with 4 to 8 single beds and all the necessary facilities such as free wi-fi, outdoor terrace, kitchen area …
History of the Hostel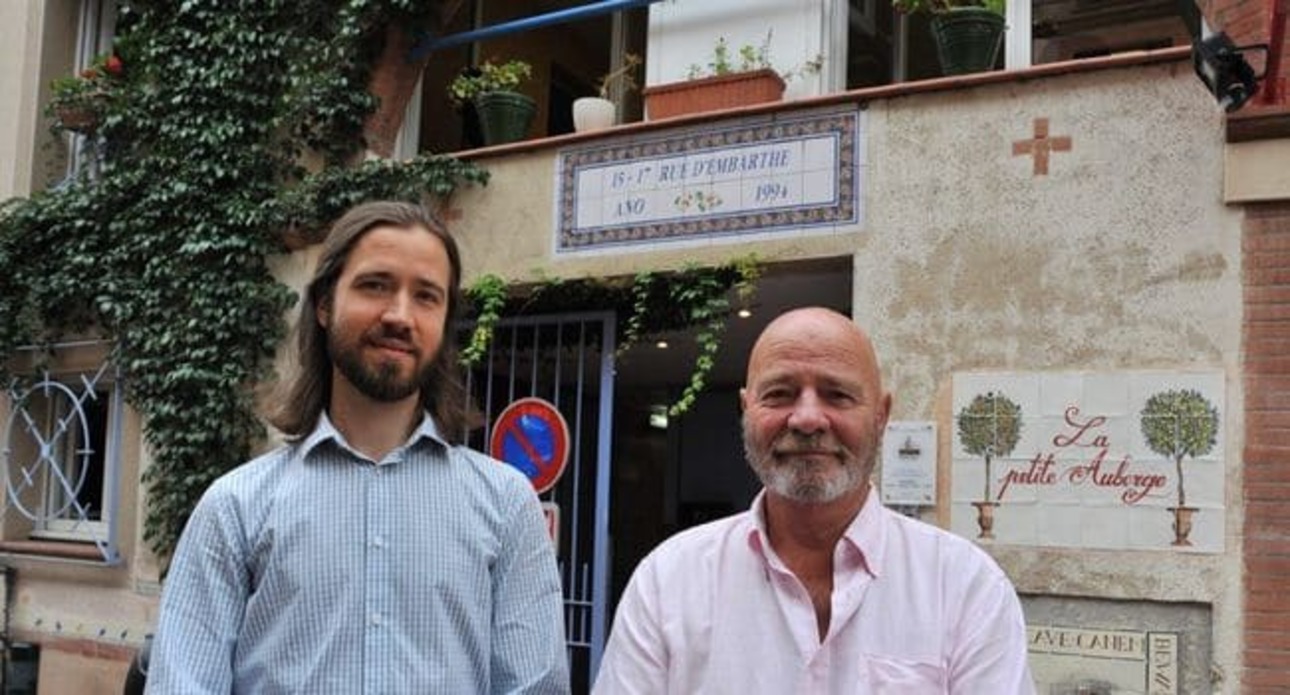 Didier Riquet created Saint Sernin guesthouse in 2006 afterhe had been himself a world traveller.
He wanted to rebuild the hostels' friendly and sharing atmosphere in Toulouse. His goal was to greet young backpackers from all over the world and offer an enjoyable and cheap accommodation.
At the beginning,there was 5 bedrooms in the hostel.
Today, Didier'ss on, Clément, manage the guesthouse. There are 15 bedrooms which names are world cities names such as Seoul or Sevilla.
The hoste lis a meeting place where musicians, students, pilgrims or traveller come forone or several days while they discover the pretty city of South of France,Toulouse.
Our staff is pleased to help and advice about the hostel and visits in Toulouse and around
At the heart of Toulouse, la petite auberge de saint Sernin offers a welcoming, clean and cheap accommodation. Moreover, our staff is a gold mine of information.

The hostel team is glad to greet you. Either you are a backpacker, group, student or workers… you are very welcome whatever your age, in the word aeronautics capital.
The concept is to visit and discover Toulouse and stay in a friendly hostel where you can share with other young or experienced travellers thanks to the common indoor and outdoor rooms. A perfect way to meet people from all over the world in a pleasant atmosphere.
Our staff is happy to greet you inour nice neighbourhood in the city centre of Toulouse. The reception is open every day from 10am to 12.30pm and from 2.30 to 9pm.
We speak French, English and Spanish.
The hostel is ideally located: closeto basilica of Saint Sernin, the oldest world roman basilica. Discovering the city, go and visit le Capitol, the Japanese garden, tiercerettes square… Do not miss to visit la Cité de l'espace and discover charming and tasty restaurants and bars. Toulouse is perfectly situated to go for a day excursion: skiing in Les Pyrenees, hiking or visiting the Cathars castles.
The hostel is a few minutes' walk from la place du Capitole of Toulouse. You can reach Matabiau train station in 15 minutes with the underground. The underground station Compans-Caffarelli is 5 minutes walking from the hostel. You can catch the airport shuttle from there.
We care about you to spend a pleasant stay and we are available to provide any information you need about Toulouse and the Occitan region.
Guest book
Enjoy the charming atmosphere of South of France in our guesthouse, either you are alone or as a group and whatever your age.
Dorms
In a peaceful neighbourhood in Toulouse city centre, the hostel suggests dorms with 4, 6 or 8 beds fortravellers.
In everyroom, you will find everything for a cosy stay :
A kitchen area where you can cook you breakfast and other meals.
A bathroom (or two depending of the bedroom) with toilets, shower and sink.
Personallockers in the dorms (please bring your padlock)
Sheetsand duvets are provided.
Additional services
The hostel offers services to makeyour stay more comfortable :
luggage room
wi-fi network
common areas
padlock rental
game
tennis table rackets and football balls
music instruments
laundry
printing and city maps
You will find everything you needfor an amazing stay !
Rates
The price for one night is 23.05€ per person (+1.15€ tourist tax) when you book directly through the hostel or the hostel'swebsite.
Benefit a special discount when you staylonger that 8 night :22 € per night.
Please see the rate page to find outabout groups rates.
Do not hesitate to contact us we will be happy to help with your booking.